Open House 28th January 2023 from 9:00 – 13:00
Open House 16th September 2023 from 9:00 – 13:00
Open House 27th January 2024 from 9:00 – 13:00
Onsite again!
Come by, explore our modern, sustainable campus, including boarding school and take advantage of the opportunity to participate in classes, presentations, tours and discussions with our school leadership teams.
Look forward to a varied program as well as a casual get-together with delicious snacks and drinks!
We look forward to seeing you!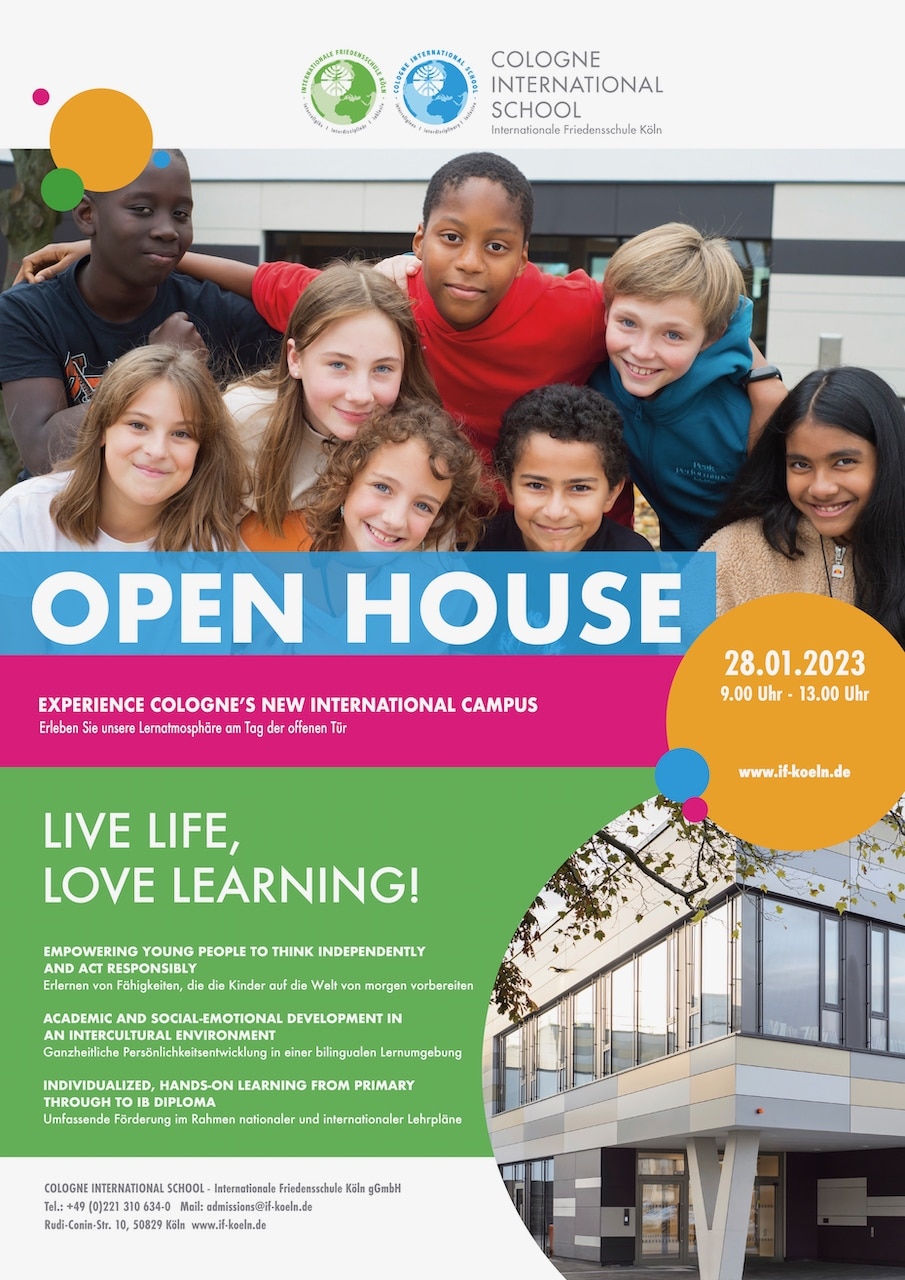 Open House on 28 January 2023
2022/23 School Semester Calendar
Semester 1
10.08.2022 – 31.01.2023
August 2022
Tuesday, 09.08.2022
"Einschulung" - First Grade Celebration
Wednesday, 10.08.2022
First Day of School
Thursday, 11.08.2022
First Day of School for 1st Grade
September 2022
Thursday, 29.09.2022
Teacher Development Day 1 School Closed
Friday, 30.09.2022
Teacher Development Day 2 School Closed
October 2022
Monday, 03.10.2022
Public Holiday (German Unity Day)
04.-14.10.2022
Autumn Break
November 2022
Tuesday, 01.11.2022
Public Holiday (All Saints Day)
Friday, 18.11.2022 4pm
Grand Opening New School Campus
Saturday, 26.11.2022
Open House 1
December 2022 - January 2023
21-22.12.2022
School Closed
23.12.2022-06.01.2023
Winter Break
Saturday, 28.01.2023
Open House 2
Semester 2
01.02. – 21.06.2023
February 2023
Friday, 03.02.2023
Teacher Development Day 3 School Closed
Monday, 20.02.2023
Rosenmontag School Closed
21.-24.02.2023
Carnival Break - School Closed
April 2023
03.-14.04.2023
Spring Break
Mai 2023
Monday, 01.05.2023
Public Holiday (Labor Day)
Saturday, 13.05.2023
International Day
Thursday, 18.05.2023
Public Holiday (Ascension)
Thursday, 19.05.2023
School Closed
Monday, 29.05.2023
Public Holiday (Whit Monday)
Tuesday, 30.05.2023
NRW School Holiday - School Closed
June 2023
Saturday, 03.06.2023
Morning of Music Secondary School
Thursday, 08.06.2023
Public Holiday (Corpus Christi)
Friday, 09.06.2023
School Closed
Wednesday, 21.06.2023
Last Day of School
School calendar to download: